September 5, 2023
The Evolution of HR and the Future of Remote Work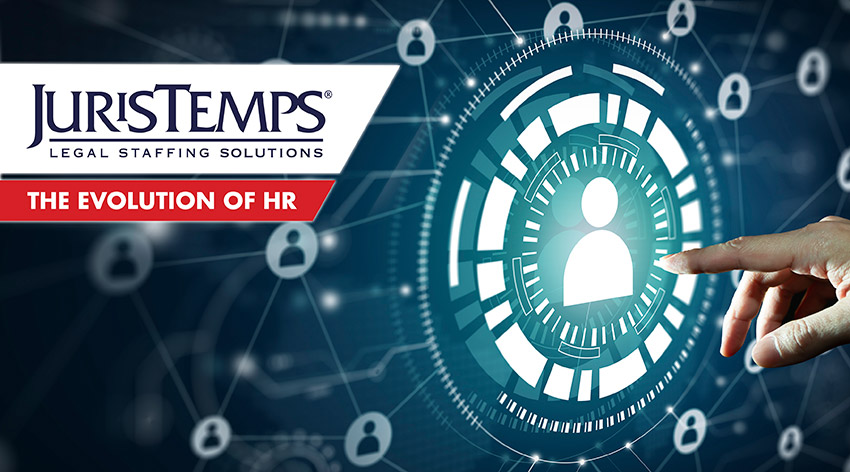 Human Resources professionals have long been known for handling recruiting and retention efforts as well as managing employee culture and benefits. Your role is rooted in people. But the future of work is a far cry from where it stood just a few years ago. Today, HR professionals are empowered to manage more HR functions than their predecessors, and the future of HR itself looks much different, too.
The Future of Human Resources
Following a global pandemic and a hurried switch to remote work, HR leaders are now settling into a more dynamic, less traditional role. That doesn't mean you don't have the same responsibilities, but rather that those responsibilities are handled in new, imaginative, and tech-fueled ways.
As HR professionals across every industry and vertical think about what this entails, we're taking a deep dive into how the role of HR and HR trends continue to evolve to not only better fit a new working environment but to help teams reach a higher level of efficiency and productivity.
HR and the Future of Recruiting and Hiring
Not being bound by a geographical location opens your search virtually worldwide, giving you access to a more diverse candidate pool and a wider variety of talent than a traditional in-house role. That's good news for business. When you recruit remote workers, you're looking for not only the right job skills but also for their overall suitability to a hybrid or remote work environment. Communication, collaboration, organization, and time management skills will rise to the top of the list, along with attributes such as self-discipline and accountability. Partnering with a staffing company can ease your hiring process and speed your search for the "right fit" and the most qualified professional.
Outside of remote work, new technologies such as Artificial Intelligence are helping HR teams recruit and onboard talent. For HR executives who are responsible for talent branding, generative AI-powered and data-driven tools can help sift through stacks of resumes, craft job ads and social media posts, and suggest relevant hashtags to reach candidates via LinkedIn and other platforms. Automation tools simplify workloads and allow you to focus on high-impact tasks that create real change for your employees and the company as a whole.
HR and the Future of Performance Reviews
Traditional performance reviews have been decreasing in the last few years in favor of more frequent and less formal check-ins. 75% of employees who received at least monthly recognition (even if informal) reported being satisfied with their jobs. And, in a recent Harvard Business Review study, 72% of respondents ranked recognition given for high performers as having a significant impact on employee engagement. Set clear expectations for remote workers, and when assigning projects, include deadlines and metrics for how success will be defined. Holding regularly scheduled informal reviews can help you keep track of performance, quickly identify and correct issues, and diffuse the pressure and anxiety employees tend to feel leading up to a formal annual review.
HR and the Future of Retention and Succession Planning
According to a Mercer study, 78% of employees would stay with their current employer if they knew they had a career path instead of just a job. Look for opportunities to promote from within, and help newer employees develop a plan for growth within the organization. For remote workers, this might include special projects, coaching, and mentoring opportunities. In addition to the benefits mentioned above, create employee appreciation and team building exercises. Transparency is key, as is creating an exceptional employee experience. Consider creating internal case studies of team members who've worked their way up within the company, including how long it took to reach each goal. Develop talent internally by listing the necessary skills and qualifications required for each leadership role within the company.
Recruiting executives from each department within your organization to share their personal career development stories and histories in blog posts, videos, and social posts can inspire employees to create their own career paths and feel confident about the opportunities inside your company. It also shows potential candidates that you're focused on employees' success and promoting from within.
HR and the Future of Information Sharing
Clear, transparent, and timely information sharing is crucial whether you're in a remote work environment or a traditional office space. What might change is the format and frequency of those shares. In a remote setting, you'll want to make your point quickly and clearly, show empathy, and allow extra time for responses from team members across different time zones. Determine how best to communicate without interrupting workflow.
The greatest change to information sharing in a remote environment is security. HR pros now need to work closely with IT to select devices and software that not only keep company data secure but ensure that strong security doesn't come at the expense of an exceptional employee experience. Team usability, efficiency, and collaboration are a must. Your onboarding program should include time with your IT department to ensure new team members understand their role in keeping the company secure and know how to safely collaborate and share information with colleagues.
HR and the Future of Company Culture
Highly engaged teams show 21% greater profitability according to a Gallup poll. Teams that score in the top 20% in engagement realize a 41% reduction in absenteeism, and 59% less turnover. As an HR leader, you have the power to create a strong company culture. Connect your hybrid and remote employees to one another and create a sense of community by introducing new recruits to the entire team, encouraging feedback at all levels, and facilitating frequent conversations. Set clear goals and place a premium on mutual respect and trust. Plan annual team building trips to boost employee engagement and encourage bonding among remote employees. Groove, a customer support SaaS company, has been 100% remote from day one. According to the company's blog, CEO Alex Turnbull insists on trial periods for all potential employees. This temp-to-hire approach is smart not only for the company but also for professionals looking for the right fit.
Companies, especially in industries like tech and finance, are investing more resources into their Human Resources departments, according to a recent Entrepreneur article, to ensure they have well-trained professionals who can spot talent that aligns with their company's culture and goals. Talent branding is a relatively new area of expertise for the Human Resources department. The future of work requires HR professionals to showcase a strong company culture both internally and externally. LinkedIn Company pages, advocacy tools, and AI-powered technology empower employees to post culture-related company content via an approved dashboard.
HR and the Future of Conflict Resolution
While conflicts can happen in any work environment, misunderstandings may be more common for teams that rely on text-based communication. Some employees prefer communicating in writing, others prefer face-to-face, while still others prefer to pick up the phone. The challenge for HR executives is to create a predefined structure that takes all of these into consideration. Use multiple communication tools so that each team member can use the tool that allows them to communicate most effectively, and instill a culture that assumes ignorance before malice. Regardless of how your team works, as the HR leader, be sure to communicate all conflicts and resolutions in writing for your records. Daily team check-ins can help you spot conflicts early on, leading to quicker resolutions.
As an HR pro, your role is key in the success of your organization. Now is the time to shore up recruitment and retention practices and other core responsibilities to better manage a remote workforce. The sooner you begin to transform your role, the sooner you'll realize greater efficiency and productivity among team members and a more successful business model.
The Evolution of Human Resources is Now
The future of work is balanced, fair, and empathetic. That doesn't mean we're less ambitious—quite to the contrary, we're prepared to work harder to achieve the lifestyle we want, free from the traditional boundaries that led to the Great Resignation. Likewise, Human Resources is being redefined by a non-traditional workforce and greater resources and automation tools for recruiting, hiring, and onboarding, allowing CHROs to reimagine their roles and empower their teams. The result? The evolution of HR is more dynamic, less traditional, and well aligned to the future of work.
Whether you're leading Human Resources initiatives for an enterprise organization or a small law firm, JurisTemps is your secret weapon when it comes to finding and hiring your ideal legal candidates. View our latest featured candidates and start your search here.