August 6, 2021
4 Law Practice Growth Areas to Watch Now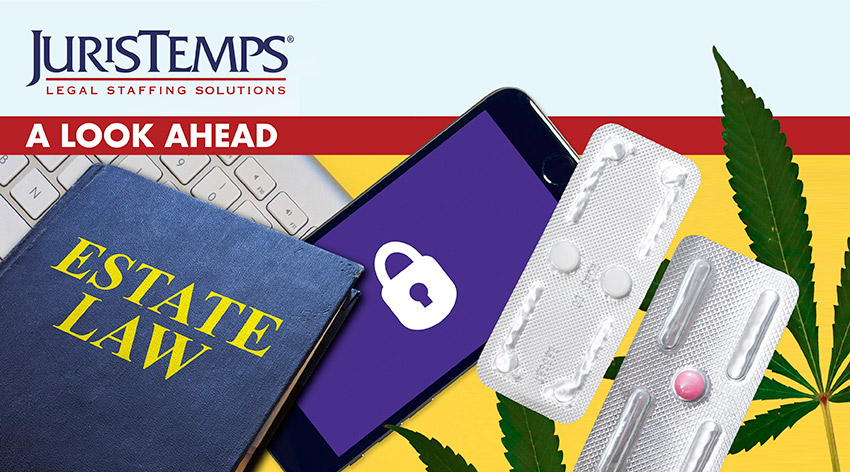 Perhaps the greatest change we've seen since first publishing this blog post in 2019 is change itself—the constantly fluctuating legal demands brought about by a global pandemic and the resulting economic and health crises. If 2021 has taught us anything, it's how to adapt quickly to market demands. Law firms of all sizes and in-house corporate legal departments alike are finding ways to meet the growth of these practice areas. It's interesting to note that the growth in practice areas on a national scale are quite a bit different from what we're seeing locally, here in St. Louis. Let's take a look.
Law Practice Growth Area #1: Cybersecurity Law
Cybersecurity law continues to trend upwards nationally, with a sizeable 15% growth rate. That's largely due to an increase in regulations at every level, from local to global, and increased risk due to a near overnight shift to working from home without the proper security in place.
Cybercrime has increased by 600% since the start of the pandemic. The average cost of a business data breach is up nearly 10% this year to $4.24 million, and when remote work is a factor, that cost is even higher ($4.96 million). That means cybersecurity law professionals are in high demand. Here in St. Louis, we're seeing an increased need for attorneys with technical and IT backgrounds.
Legal professionals interested in practicing cybersecurity law should be familiar with laws such as the Wiretap Act, the Computer Fraud and Abuse Act, and the Privacy Act and competent and up to date with the current state of cybersecurity.
Must Have Credentials

An understanding of technical concepts and an interest in emerging technologies
The ability to communicate and discuss technical issues
Legal project management experience
Nice-to-Have Credentials

Some amount of IT coursework/education
Hands-on experience through IT training
IT certifications
Law Practice Growth Area #2: Labor and Employment Law
The pandemic led to a massive labor shortage, with more than nine million job openings and demands for better pay and safer working conditions. Now, the EEOC is issuing new regulations governing workers' return to the workplace, which has led to an increase in the field of labor and employment law nationwide. In addition, the demand for increased diversity and inclusion has led to a wider awareness of workers' rights relating to gender, race, sexual orientation, disability, and other issues relating to workplace discrimination.
Organizations are hiring new law firms at the highest rate in more than 20 years. In the St. Louis area, labor and employment law remains steady. For legal professionals interested in practicing L & E, now is the time to make the switch.
Must Have Credentials

A familiarity with state, federal, and global employment laws
Working knowledge of general information labor policy
An interest in employment rights
Nice-to-Have Credentials

Coursework/education in employment or labor law
A background in management
Strong interpersonal and communication skills
Law Practice Growth Area #3: Health Law
Health law is seeing massive growth thanks to the global pandemic, vaccinations, and organizations seeking legal guidance related to healthcare and safe working environments. This practice area covers a lot of ground including access to care, public health, policy and regulation, medical malpractice, provider concerns, and constitutional law and civil rights. Legal professionals interested in practicing health law can work in a variety of settings, such as in-house legal counsel for a hospital or non-profit, government policy development, or a private or public law firm.
In our local area, we've not seen an increased need for lawyers with specific health care experience, but given the current situation, that could certainly change. Legal professionals interested in working in this practice area should consider the following:
Must Have Credentials

Strong interpersonal and collaboration skills
Working knowledge of federal health care laws
Experience drafting and negotiating contracts
Nice-to-Have Credentials

Master of Laws in Health Law (LL.M.) degree
A certificate in Health Law and Policy
Process improvement or healthcare litigation experience
Law Practice Growth Area #4: Cannabis Law
What was once primarily criminal defense is now one of the country's fastest growing industries. According to one source, cannabis is expected to be a $85 billion industry by 2030. While it's still illegal at the federal level, 36 states now permit the medical use of cannabis, and 15 states allow its recreational use.
Just two years ago, less than 10% of Am Law 100 firms' websites included the word "cannabis." Today, nearly 40% have a cannabis practice or are working in the space. Legal professionals are handling mergers and acquisitions, state laws and risks for employers and advertisers, and guidance for federal services such as loans and insurance. The industry will continue to grow as more states legalize the use of cannabis. We expect that to be the case in Missouri, as well, although to date, we've not seen an increased need for this specific area of law.
Must Have Credentials

A strong understanding of the cannabis plant, its history and extraction processes, commonly used terms
Working knowledge of federal and state cannabis laws
Business law experience
Nice-to-Have Credentials

An active interest in politics
A strong network of business associates
The ability to distinguish credible prospects and clients
In St. Louis, we're seeing an increased need for plaintiff side litigation, Trust & Estates, mass torts, and as we mentioned above, attorneys with technical and IT backgrounds. If you're ready for a career move or a lateral switch to one of these practice areas, or the ones listed here, we'd love to help.
Juristemps has been serving St. Louis' legal community for more than 20 years. Our long-time relationships with St. Louis-based law firms and enterprise companies can give you an edge on the competition. View our current job openings and upload your resume here.