June 3, 2019
5 Hot Practice Areas of Law for 2019 and Beyond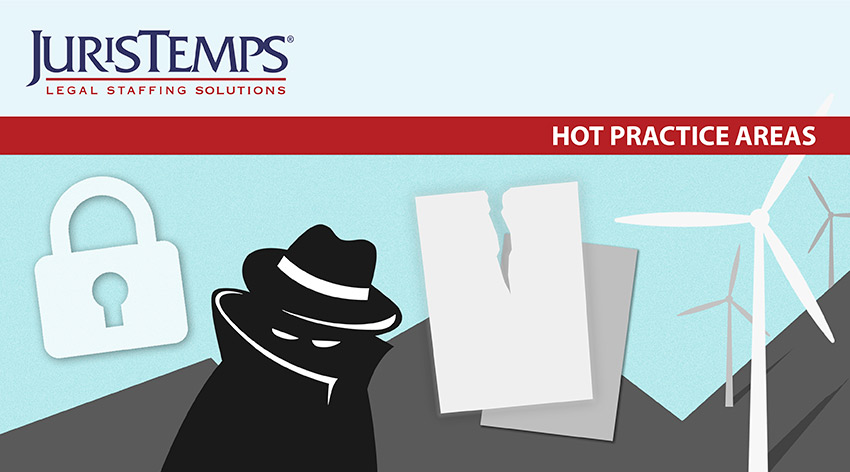 This year marks the strongest increase in legal industry revenue since before the Great Recession. This growth wasn't due to billable hours or rate increases, but because more and more firms are expanding into developing practice areas. Legal professionals with experience in these practice areas are likely to receive multiple job offers and competitive salaries. Here are the five fastest-growing areas of law to consider.
Hot Practice Area No. 1 – Cybersecurity Law
The average cost of a business data breach is around $150 million – it's no wonder that businesses need to be extremely cautious about safeguarding their data and, in the event of a cyberbreach, quick to mitigate the damage.
In addition to having skilled developers and engineers on staff, it's also important for these businesses to hire legal professional who are well-versed in cybersecurity law. These attorneys make sure that companies are compliant with laws such as the Wiretap Act, the Computer Fraud and Abuse Act, and the Privacy Act. With all these new rules and regulations, law firms are playing catch-up to make sure they're staffed with lawyers who are competent and up-to-date with the current state of cybersecurity.
Must Have Credentials
An understanding of technical concepts and an interest in emerging technologies
The ability to communicate and discuss technical issues
Legal project management experience
Nice-to-Have on Your Resume
Some amount of IT coursework/education
Hands-on experience through IT training
IT certifications
Hot Practice Area No. 2 – Privacy Law
Nations and markets are more connected than ever. That means the need for privacy attorneys, especially in countries that do business with the European Union, is rapidly increasing. After being put into effect May of last year, the EU's sweeping General Data Protection Regulation (GDPR) requires that "any organization that processes or stores large amounts of personal data, whether for employees or individuals outside the organization or both," has a data protection officer (DPO). Also of note, the GDPR applies to any non-EU organizations located in foreign countries that handle data of EU citizens.
The International Association of Privacy Professionals estimates that there are currently 75,000 job openings for DPOs. As enterprise companies get hungrier for massive amounts of personal data to help fuel targeted marketing campaigns, DPOs and privacy attorneys will be tasked with keeping them compliant.
Must Have Credentials
A familiarity with state, federal and global privacy laws
Working knowledge of general information security policy
An interest in social psychology
Nice-to-Have on Your Resume
Coursework/education in information privacy law
A background in technology
An International Association of Privacy Professionals certification
Hot Practice Area No. 3 – Environmental/Energy Law
Environmental law refers to the various laws, regulations and treatises that address and regulate human activities that affect land, air, water, plants and living organisms. While legal issues related to the environment used to be addressed directly through common law negligence, nuisance and property lawsuits, today they are tied to federal environmental statutes that have been put in place during the past few decades.
Since "going green" is becoming a global priority, lawyers who are able to advise clients on sustainability issues and green initiatives are in demand. An increasing amount of greenhouse gas, climate change, global warming and other environmental legislation will keep environmental lawyers quite busy for years to come.
Must Have Credentials
A passion for sustainability and "going green"
Familiarity with current environmental laws and regulations
A mind for science
Nice-to-Have on Your Resume
Participation in advocacy groups, public interest lobbying or education campaigns
Coursework/education in environmental law
Master of Environmental Law and Policy degree
Hot Practice Area No. 4 – Commercial Litigation
While commercial litigation has been around for quite some time, business is currently booming: Massachusetts-based BTI Consulting projects a $2.5 billion increase in litigation spending this year alone. Since the issues involved in commercial litigation cases are typically very specialized and complex, both factually and legally, the attorneys employed must be highly knowledgeable about the matter at hand.
High-stakes litigation, also known as "bet-the-farm litigation," entails cases that can cripple or destroy a company, devastate investors, and expose officers and directors to massive liability. As a result, the legal teams involved must be experts in the nuances of corporate issues. With their existence as stake, companies in these suits are very likely to shell out for the best and brightest attorneys available.
Must Have Credentials
Excellent interpersonal skills
Negotiation prowess
An ample amount of trial experience
Nice-to-Have on Your Resume
A willingness to expand into all types of litigation
A tenacious attitude that thrives during intense work
The creativity to think of unconventional solutions to problems
Hot Practice Area No. 5 – Document Review/E-Discovery
Another well-established legal field that's currently experiencing massive growth is document review. Experts anticipate the e-discovery market to grow from $10 billion in 2019 to roughly $24 billion by 2023. Legal issues such as high frequency trading, the "second tech bubble" burst, and a multitude of corporate scandals produce cases that have a massive number of documents. Sometimes numbering in the millions, these documents require careful, thorough inspection by doc review attorneys.
These attorneys must have a clear understanding of the discovery process, as well as an ability to identify certain keywords and phrases that help them find the most relevant documents. Those who've built a career in this field likely agree with the American Bar Association Journal's recent assessment of doc review being seen as "more complex, interesting, flexible, stable and desirable" than ever before. The more technology continues to advance, the more creative doc review attorneys can be in performing their duties. Learn more about e-discovery here.
Must Have Credentials
Analytical skills
Ability to make snap judgment calls about material relevancy
Attention to detail
Nice-to-Have on Your Resume
Electronic Discovery Reference Model certification
Knowledge of emerging legal software and technologies
Legal project management experience
If you're looking to capitalize on one of these recent trends and land a position in the legal industry, JurisTemps can help. We've been servicing St. Louis' legal community for more than 20 years. Our long-time relationships with St. Louis-based law firms and enterprise companies can give you an edge on the competition. If you're serious about your next career move, we're serious about helping you find and successfully apply for your next position. View our current job openings or contact us today – we look forward to assisting you!