August 15, 2023
The Future of Work: Hybrid and Alternative Legal Careers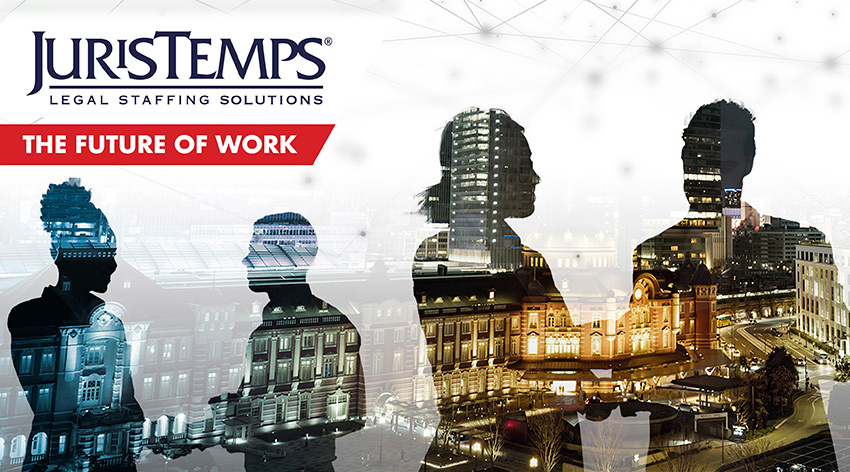 A Changing Career Landscape
The pandemic shifted our entire approach to work, physically, mentally, and emotionally. Remote work ushered in many possibilities and a greater desire for workplace wellness, which led many professionals to leave their careers during The Great Resignation and look for jobs that offered better work-life balance or start side hustles that turned into companies.
All these changes caused the traditionally slow-to-change legal field to catch up to other industries. Drawn out discovery processes and decentralized case information gave way to a new legal model focused on increasing operational efficiency. Today, it's more likely for professionals to build what's become known as a portfolio career— taking on a variety of professional roles, sometimes in different industries, both paid and volunteer, in-person and remote. In fact, a late 2021 survey shows that 63% of adults have portfolio careers, up 37% since before the pandemic.
The future of work looks very different from professionals of our parents' generation, who likely spent their entire careers in one industry, if not one company. Not only do we job hop more frequently in a post-pandemic world but we create side hustles, and work in multiple industries and roles.
Hybrid, portfolio, and alternative legal careers come with many benefits, including more areas of experience, a greater breadth of knowledge, and the ability to translate skills from one role to the next. Thanks to advances in technology and a global pandemic, it's no longer uncommon for law firms and clients to look for hybrid professionals who can fill more than one role. And it's equally common for professionals to want a remote work position that allows for more flexibility.
Hybrid Legal Roles in the Future of Work
If the future of work is hybrid, some legal positions are well ahead of the curve. Hybrid Paralegals is a great example. Legal secretaries are largely tasked with administrative work such as corresponding with clients, setting up calendars, and filing documents. Paralegals, on the other hand, support attorneys by conducting research, drafting documents, and preparing cases. Taking on additional tasks that are typically handled by a paralegal can give legal secretaries a wider breadth of experience and greater decision-making authority, making them more marketable to potential employers, and offering higher salaries. Admittedly, transitioning from an admin role to a paralegal can be challenging. But legal secretaries can increase their odds of landing a hybrid paralegal role by taking on temporary assignments to learn the ropes in real time, gain hands-on upskilling experience, and work directly for potential employers.
The reverse is true, as well. Paralegals who take on hybrid work gain an expanded skillset that can increase their marketability, especially when it comes to tech-related skills. While many firms require paralegals to have a four-year degree and a certificate of completion from an ABA-approved education program, Missouri does not currently require paralegals to hold a certificate.
As clients continue to push for maximum value and efficiency, many law firms have introduced the hybrid role of legal project manager to be filled by attorneys with project management experience. These legal pros help firms provide clients with an accurate expectation about the scope and parameters of a matter upfront, and then evaluate and analyze how it was handled after the fact.
Emerging Legal Roles in the Future of Work
Lawyers who have an additional skillset that can be combined with their legal knowledge are carving their own path. For example, attorneys with a background in programming/information technology/data science have become valuable assets for corporations and law firms because they can act as a link between IT departments and less tech-inclined legal pros.
Highly experienced attorneys with cross-disciplinary knowledge have been entering the C-suite in emerging executive roles such as Chief Innovation Officer, Chief Data Architect, and Chief Knowledge Officer. In fact, more than 80% of Am Law 200 firms have invested in one or more of these positions. "Right now, we're seeing the top 25 percent of law firms and legal organizations are really making investments in multidisciplinary approaches to legal services," Jennifer Schwartz, Cowen Group senior director of market research, told Bloomberg Law.
The future of work will see continued growth of these non-traditional work arrangements and legal careers such as privacy managers, legal solutions architects, cybersecurity professionals, technology transfer officers, and eDiscovery consultants.
The Future of Hybrid Work: Alternative Legal Careers
Advances in technology are now creating alternative legal careers and changing how law is practiced. Lean, flexible legal models are much more prevalent in a post-pandemic world of work, increasing both the supply and demand for legal support roles such as paralegals, mediators, secretaries, trial consultants, and e-discovery professionals. Some of these legal pros want to work with more substantive, intricate issues but don't want to take on the financial burden and significant time investment of earning a law degree, which has caused speculation about what other aspects of an attorney's work could be carried out by a non-attorney professional. And with the growth of Artificial Intelligence (AI), many of the repetitive tasks can be left to automation. Not only does this allow legal professionals to focus on more challenging and rewarding work but it also creates a work model that allows for greater flexibility, better work/life balance, and more control of career and income, improving overall well-being.
Tips for Recruiting Hybrid Legal Pros
Business leaders looking to hire for a hybrid legal role should first establish a clear vision of:
What the position entails and its unique function within the organization.
The experience and qualifications an ideal candidate should possess.
The day-to-day duties of the position.
Whether remote work is possible.
Assemble a realistic snapshot of market demands for the same or similar positions to offer a competitive rate. This research should give you an idea of how best to market and position your hybrid role(s) to stand out from job openings at other firms.
Firms offering career development or continued education options that could benefit a hybrid legal professional should highlight that feature to candidates. Investing time and money into advancing their careers shows commitment to their long-term success. Law firms that are interested in the idea of hybrid legal positions but want to test it out before making a full-time hire can use a staffing agency to hire a temporary employee. That way, they can determine what works and what needs to be adjusted before making a decision.
Regardless of the role, these days it may entail a hybrid work model that includes some days in an office and other days working remotely. Crafting a flexible work environment that fits the needs of professionals while still maintaining an office presence can improve retention, and putting an emphasis on mental health can help your firm stand apart from the competition when looking to attract top legal talent.
Tips for Transitioning to a Hybrid or Alternative Legal Role
Legal professionals looking to expand their skillset, marketability, and earning potential by taking on a hybrid or non-traditional role should first assess their abilities and experience to determine which path might be the best fit. Keep in mind that soft skills such as time management, teamwork, and flexibility are just as important as technical skills, and can set great hybrid candidates apart from the rest.
Obtaining specialty certifications, accreditations, or other professional endorsements is another great way to strengthen a resume. The formatting, content, and language used in a resume can speak volumes about a candidate's communication skills, which are of chief importance in these multifaceted roles. It's also wise to leverage the power of networking when looking for hybrid positions, as other legal pros can identify skillset gaps and make professional introductions. Even better, a staffing firm can actively promote and seek out work for unique candidates whose backgrounds don't fit a standard job description.
Whether you're a legal professional looking to transition to an alternative position or a law firm looking to recruit for one of these hybrid roles, JurisTemps can help. We are an industry leader in finding jobs for legal professionals at every stage of their career, as well as helping law firms recruit and hire the talent they need to grow. View our current job openings or contact us today – we look forward to assisting you!