October 27, 2023
6 Tips for Keeping Team Productivity Up and Stress Down During the Holidays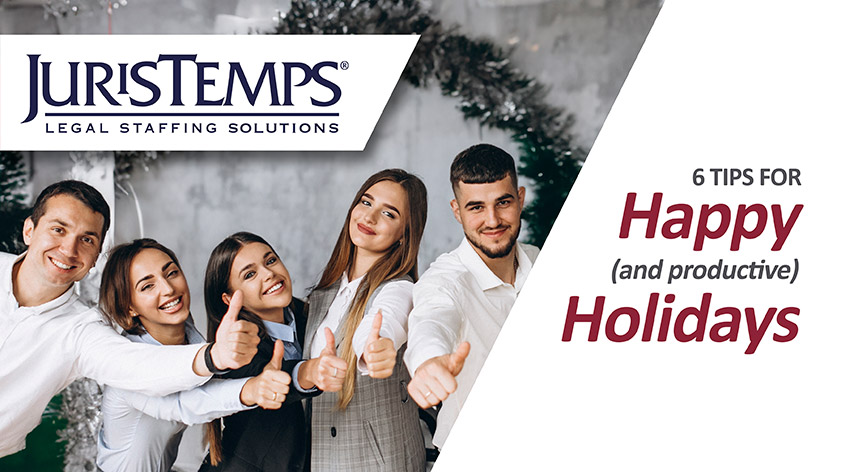 More than 60% of companies say their workplace productivity falls during the holiday season, and two thirds of employees admit they're less productive during the month of December than other months. It's no wonder; between the end of the year rush and an increase in personal obligations, employees are likely to be exhausted, unmotivated, and even suffering from burnout. Keeping your office from becoming a hectic, stressful environment isn't easy, but it is possible. Here are some tips that can help you make it through the holidays with your sanity – and your festive spirit – intact.
Productivity Tip #1: Plan Ahead
The holiday months seem to arrive before we have a chance to create a game plan for them. If you plan to take PTO, do so as early as possible in the season to give your colleagues and management a heads-up. If you lead a team, consider implementing a rotating flex-time schedule to give employees much-needed time off, but keep your department appropriately staffed for the workload. If you find yourself or your team constantly distracted or juggling multiple projects, use the "30-10" method to stay focused: spend 30 minutes at the start of each week creating a list of goals, and 10 minutes at the start of each day prioritizing tasks and readjusting your timetable as needed. If you're not already using a hybrid work model, consider adopting one for the holiday season so that employees can work from home at least a few days a week. They'll appreciate using commute time for last-minute holiday tasks or an extra hour of sleep to combat stress levels.
Productivity Tip #2: Go with the Flow
Admit it: we're more likely to be distracted during the holidays. We're also likely to be more creative, more joyful, and more giving. Why not capitalize on this holiday mindset by focusing on projects and tasks that require these skills? Schedule team-building exercises and creative brainstorm sessions to motivate employees and provide an outlet for their extra energy. Consider volunteering as a group to give back to your community. Habitat for Humanity, Rebuilding Together, Operation Food Search, a local homeless shelter, or an adopt-a-roadside program are just a few options. You'll bond as a team and better yet, feel great about helping those in need!
Productivity Tip #3: Be Flexible
Our mobile-driven world makes us more accessible than ever before. It also allows for increased flexibility which can lead to higher productivity. In fact, a Zenefits benchmark report found that 78% of employees with a flexible work arrangement believe they're more productive. So, if the workload can support it, be open to giving employees time during the day to check a few personal items – attending a child's holiday party, for example, or shopping for gifts – off their to-do lists. Afterall, nearly 50% of employees admit to holiday shopping online while at the office anyway, according to a CareerBuilder survey. If you can make some concessions during this time of year, your employees are more likely to stick around. Recent reports show that flexibility improves morale, increases productivity, and boosts retention rates.
Productivity Tip #4: Call for (Temporary) Help
The holiday season coincides with end-of-year responsibilities for many businesses. And while some industries tend to slow down a bit around the holidays, others are navigating their busiest time of year. If several employees are out on vacation and your business will be closed for certain holidays, you're probably left working overtime to get everything accomplished on time. Routine daily tasks take a back seat to hot client projects, but they still need to be handled. Consider calling for backup. The 70% rule says that if someone else has the bandwidth to perform a task at least 70% as well as you can, you should delegate it. Part-time employees might be interested in picking up extra hours to earn more money for the holidays. Staffing companies understand the end of year rush and likely have temporary workers at the ready. Could some of your routine tasks be delegated to these professionals? If your corporate legal department or law firm could use an extra hand or two this season, JurisTemps can help!
Productivity Tip #5: Make Healthy a Habit
An abundance of high-fat foods and alcohol consumption coupled with a lack of exercise and fewer hours of sleep make this season famous for encouraging unhealthy habits. It's not easy to resist the 'tower of treats' that line the counters of break rooms and office kitchens. The truth is unhealthy cravings are often a symptom of our brains misinterpreting thirst. When you're tempted to grab a mid-day sweet or an evening cocktail, reach for a glass of water first. Research shows that drinking 16 ounces of water can send the "full" signal to your brain. When it comes to sleep, set yourself up for success. Power down devices 30 minutes before you go to sleep, and aim for getting seven hours of sleep each night. Grab your team and take a mid-day walk around the building, the parking lot, or the office, turn daily team meetings into shorter "stand-up" sessions to increase efficiency, and if your building has a gym, use it! Exercise has been proven to release endorphins that reduce holiday stress.
Productivity Tip #6: Make Mental Health a Priority
Since the pandemic, over 80% of workplaces have increased their focus on employee mental health. That's likely because almost 15% of workers experience mental health problems at work. The holiday season only exacerbates this; nearly 25% of people with a diagnosed mental illness find that the holidays make their condition much worse, according to the National Alliance on Mental Illness (NAMI). In this season of giving, don't forget about self-care for yourself and your team members. Check in with each of your employees. Make your office holiday parties optional so that employees can say "no" when they need to protect their mental health. Consider sharing daily mental health tips and asking team members for their own ideas. Not only can this provide your employees with stress management techniques but it will make them aware that their well-being is top of mind at what can be a stressful time of the year.
There's no getting around the fact that the holiday season has an impact on productivity levels. But put these six tips into practice now, and you'll be ahead of the game come Thanksgiving. With a bit of planning, team focus, and healthy habits, your entire team will accomplish more and avoid the stress that's so common this time of year. And when you finish out the year on a high note, you'll be ready to start the new year feeling invigorated and invincible. Need extra help this holiday season? JurisTemps has you covered! We have a large pool of temporary, temp-to-hire, and direct hire professionals and can handle your legal recruiting needs. Learn more about our recruiting process, submit a staffing request, or view our current job openings – we look forward to assisting you!