January 1, 2022
2022 Forecast: Legal Industry Trends for the New Year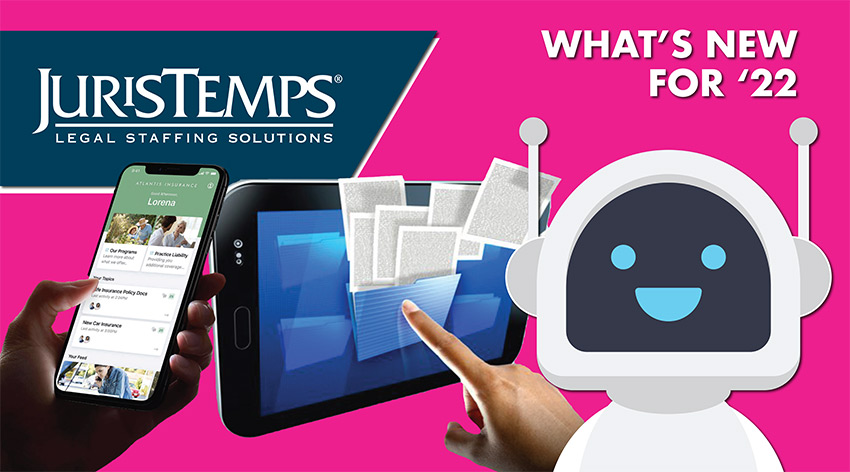 In 2022, the legal industry is saying goodbye to stopgap digital solutions and fully embracing digital transformation. Software that worked well during stay-at-home orders might not have the needed flexibility to support both in-office and remote work. Now that hybrid work is here to stay, legal industries are focused on providing the best client experiences and day-to-day workflows both in-office and online. These areas of focus are leading to many interesting changes. Here are three legal industry trends to keep an eye on in 2022.
Legal Trend #1: Improving Digital Client Experience
Providing clients with a top-notch experience is critical for legal industries. While in the past this may have included offering your client water, coffee, or snacks when they meet you in-office, these in-person interactions have become more of a rarity due to COVID-19. Now, client experience needs to be translated to the online space. By giving your client convenient, user-friendly digital experiences, you can keep client satisfaction high while respecting that not everyone is able to meet in-person.
Client portals can greatly improve client experience. Clio, Moxtra, and PracticePanther are just a few of the companies that offer digital tools. With these portals, clients can access case information whenever they need to. They can also sign documents online and upload their own files. Having one central location for files and documents cuts down on unnecessary meetings and reduces the chance for miscommunication. Many client portals also have a messaging feature so clients can securely converse with their legal counsel. Other technology that can improve client experience are chatbots, online intake forms, and online payment options.
Legal Trend #2: From ALSPs to 'New Law'
After years of Alternative Legal Service Providers, these services are no longer considered alternative. Enter New Law. Clients' increasing desire to spend less, demand more, and expect greater value is largely behind this $11 billion industry. While some firms are bringing these services in-house, the majority (65%) prefer to partner with providers for services such as e-discovery.
'New Law' partnerships provide corporate legal departments and law firms with access to specialized expertise, legal support flexibility, and an extended network of connections. This is especially helpful for smaller legal operations, with sixty percent of those with fewer than 1,000 lawyers currently considering legal process outsourcers. Temporary, temp-to-hire, and project-based legal staffing provides a streamlined solution for firms juggling increasing client demand and necessary cost reductions. Law firms and legal departments considering new law partnerships may benefit from partnering with a staffing firm that can source and secure workers who best fit their specialized needs and requirements.
Legal Trend #3: Automation
With the help of AI and other technology, workflow automation will be a big trend in 2022. According to researchers from McKinsey Global Institute, 23% of a lawyer's work is automatable. By leaning into automation, firms can reduce expenses, boost efficiency, and improve employee satisfaction.
Some examples of processes that could benefit from automation are: client intake, document creation, and collections. These are processes that make everyone's job easier, from paralegals and legal assistants to attorneys.
With the automation of low-value tasks, such as creating templates, backing up documents, and onboarding clients, law firms and corporate legal teams will be free to focus on high-value, billable tasks in 2022 that ultimately increase productivity for teams and lower costs for clients. And considering that digital transformation is an ongoing journey rather than an end-goal, the focus on automation is likely to stick around far beyond 2022. If you're interested in learning more about automation, this blog outlines 6 steps to get started.
Conclusion
With some strategic planning, you can successfully navigate the evolving legal landscape of 2022. The job outlook for paralegals is strong, with a projected 12% growth through 2030. If you're a paralegal or legal assistant looking to grow your career in the new year, it's important to be comfortable with new technology and open to incorporating it into your workflow. Whether you're a law firm in need of assistance or a legal professional looking for a new opportunity, JurisTemps can help. Click here for information about our team of expert legal professionals or here to learn more about our recruiting process.