March 1, 2020
Practice vs. Delivery – 4 Factors Transforming the Modern Legal Landscape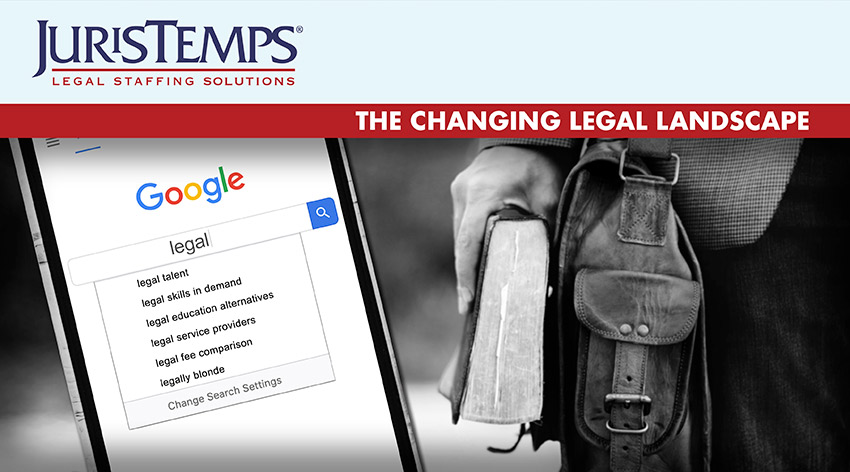 The demand for traditional legal practice has been on the decline since the Great Recession, yet the business of delivering legal services continues to grow. The industry landscape is shifting from lawyer dominated, practice-centric exclusivity into a community that's more concerned with advancing the business of law through technology, project management, and streamlined processes. Here are four factors influencing this shift.
Factor #1: JDs Flock to Jobs in Other Industries
An in-depth longitudinal study conducted by the American Bar Foundation followed the careers of 5,000 U.S. law school graduates who passed the bar in 2000: In 2003, 69% of these JDs worked in private practice while just 9% worked in the business sector. By 2012, the percentage of those in private practice had dropped significantly to 44% while those in the business sector increased to 27%. Although traditional legal practice was the presumed career path of law school graduates for most of the 20th century, many of today's budding professionals are exploring other options. For companies outside the legal industry, this provides an exciting opportunity to leverage the skills and expertise of highly educated, highly motivated individuals who are eager to forge a meaningful career for themselves.
Another contributing factor is the fact that the last few years have seen an increase in the amount of law school applicants/graduates, yet the number of available jobs in the legal industry has largely remained flat. Moreover, there are currently fewer private practice positions available for law school graduates than there were before the Great Recession. That means new law school graduates and seasoned legal pros alike are turning to other industries to find job openings that require comprehensive legal knowledge, such as:
Government – Lobbyist, Judicial Clerk, Government Information Specialist
Education – Law Librarian, Law Professor, Clinical Legal Teacher
Technology – Privacy Manager, Cybersecurity Analyst, Legal Engineer
Business – Consultant, Compliance Officer, Legal Operations Manager
Factor #2: The New Legal Supply Chain
Another shift that has occurred over the last 20 years is the transformation of the ways in which legal services are delivered. Technology and new communication tools have been the key components in creating a new legal supply chain in a vertical where, until pretty recently, law firms were the sole outsourced legal service providers. Now individuals, families, and businesses in need of specific legal services can look online to determine the most cost-effective method for fulfilling their needs, whether that's a legal consultant, boutique law firm, legal software, or other legal service provider.
In an effort to remain competitive with these new legal solutions, law firms have been making some adjustments. The 2020 Report on the State of the Legal Market found that:
86% of large firms and 57% of midsize firms collaborate with clients on creative fee options.
64% of large firms and 42% of midsize firms offer compensation rewards for efficiency and profitability.
The top legal service providers are also investing in technology and operations personnel, such as project managers, administrators, IT staff, and accountants to work side-by-side with lawyers to deliver services as quickly and cost effectively as possible. Modern clients don't want to pay Big Law rates for high volume work, so law firms that still operate on a profit-per-partner model will have to get creative if they want to build for the future while delivering cost-competitive rates for their services.
Factor #3: Collaboration with ALSPs
Once the black sheep of the legal world, Alternative Legal Service Providers (ALSPs) have recently risen to prominence alongside the new pricing strategies and efficiency/profitability metrics being used across the industry. These organizations essentially handle any systematic element of a legal process that can be broken down and performed with increased expertise, flexibility, and/or speed. In addition to the businesses that are turning to these companies for routine legal services, an increasing number of law firms are outsourcing certain jobs that would be too expensive or time-consuming to do in-house. The 2020 Report on the State of the Legal Market found that 34% of corporations and 56% of large law firms are now using ALSPs for services such as:
Litigation & Investigation Support
Legal Research
Regulatory Risk & Compliance
Document Review & Coding
E-Discovery
Contract Management
Contract Lawyers & Staffing
IP Management
As technology plays an increasingly dominant role in virtually every industry, the business sector in particular has become quite litigious. More and more often, companies find themselves with intellectual property rights or contract issues that can lead to major headaches if not managed properly. In such instances, hiring a traditional law firm is both expensive and unnecessary for such a specific issue, so hiring an ALSP serving that niche would make more sense.
Factor #4: Upskilling and Differentiation
Over the next few years, Deloitte estimates that 54% of employees across all industries will require significant reskilling and upskilling to maintain their employability. Law firms and corporations seeking a competitive advantage are well-advised to seek out employees with a range of competencies extending beyond the typical realm of law, as these individuals are likely to think outside the box and push for innovative solutions to complicated problems. As the delivery of legal work becomes more complex, organizations looking to expand the breadth and depth of their knowledge should focus on recruiting professionals with interdisciplinary skills, such as:
People management
Business acumen
Communication and negotiation
Empathy and emotional intelligence
Project management
Analytical reasoning
Technological deployment
80% of CEOs are concerned about the availability of skills in the near future, and many have attempted initiatives to reskill or upskill their existing workforce. Rather than invest in expensive training programs or poach top-tier talent from other companies, savvy execs are turning to another option: hiring temporary employees who specialize in the desired skills to lead or assist with a project so that full-time employees can refine their own abilities in that area. The key to doing this successfully is to be upfront with the temporary employee about why they're being brought in (to help develop the skills of other employees). Many will be open to such an arrangement, as it also provides an opportunity for them to learn new skills and make new connections within the industry.
Acclimating to the modern legal landscape is a time- and resource-intensive process, one that doesn't happen overnight. If you could use some outside help to find the perfect candidate for one or more roles, whether temporary or long term, JurisTemps can help. Submit a staffing request, view our current job openings, or contact us with any questions – we look forward to assisting you!