August 1, 2020
From Interviewee to Interviewer: How to Answer 10 Common Candidate Questions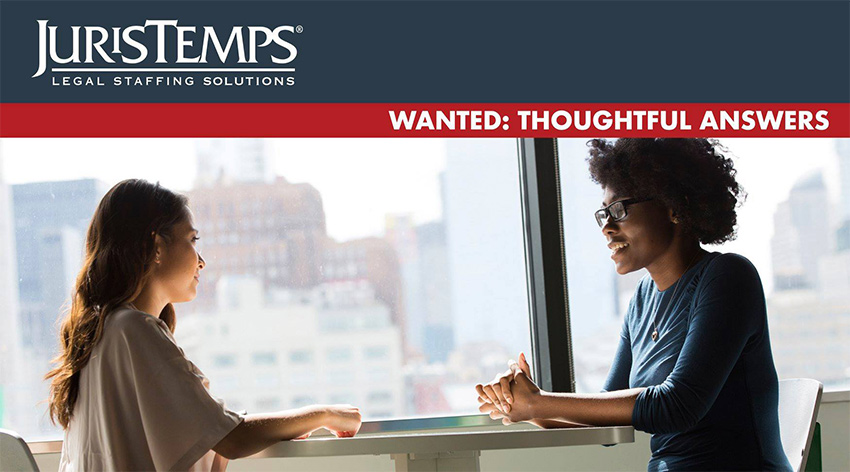 If you're like the majority of interviewers, you probably make your decision about a candidate within the first 15 minutes of an interview. However, you're not the only one forming an opinion. More than 80% of professionals say a negative interview experience can change their mind about a role. That's a key statistic, especially for organizations concerned about their offer acceptance rate (OAR).
You can calculate your OAR by dividing the total number of offers by the number accepted. The industry benchmark is 94% but the average offer acceptance rate across industries is 68%. That means nearly a third of applicants will reject your offer. Why does this matter? Because the lower your OAR, the more your company likely spends on recruiting efforts.
There are several ways to ensure a high offer acceptance rate, namely putting your company's best face forward during the recruiting process. Most hiring managers will end an interview by asking, "Do you have any questions for me?" This is one way to tell if the candidate has done their research and is truly interested in the position. The questions they ask will also show what their expectations are and where their priorities lie. What you might not realize, though, is that the end of a candidate's interview might be the beginning of yours. Come prepared to your own interviews with the knowledge and background of the roles you're filling, and with thoughtful answers to your interviewee's questions.
Here are 10 common questions you may be asked, along with ideas for formulating a thoughtful response that can put your company's best face forward.
What stood out on my resume that makes you think I'd be a good candidate for the position?
As you're sifting through resumes and selecting those that look promising, take notes! Highlight key skills, write questions in the margins, and underline interesting facts. This will help you keep track of who's who in the early stages of the recruiting process. As you pass the resume on to your colleagues, allow them to do the same so that you can see which things stand out to all of you. Offering feedback to a candidate is just smart business. Even if don't end up offering them a position now, your paths may cross again in the future, or they may be connected to someone perfect for a role and a glowing review from a candidate can help you stand out as a strong employer. Be ready not only to list a few of their key skills, but also to dive a bit deeper and make a connection they may not be expecting. Chances are, you may offer some feedback the candidate didn't expect that could help them in their search or their career. Your response could help the candidate remember you and increase your chances of them accepting a position if it's offered.
What qualities would make someone successful in this role?
On its surface, this question might seem like a soft ball, but your response shouldn't be as simple as regurgitating the job description. The candidate is likely looking for additional insight into the qualities that are important to your company and to the position. Think about the personality, mindset, and soft skills that aren't listed. If possible, talk with someone who's held this position in the past for their perspective.
What teams or departments does this role work most closely with in the organization?
Candidates may be interested in how they'd fit into the wider organizational structure. Rather than explaining what a "day in the life" looks like, try to provide a more in-depth look into the role. What personality types might work best with other departments and how does working well together benefit the organization and help it reach its goals?
What does the onboarding/training look like for this position?
Nearly three in 10 new hires leave just six months into a new job, however 69% of employees are more likely to stay with a company for three years if they experienced great onboarding. Demonstrating that your company is willing to invest in its employees lets candidates know that you want them to succeed. Be prepared to walk through your onboarding process and share some examples of professional training opportunities and even examples of team members who've worked their way up through the ranks to reach their goals and achieve professional success.
How will my success in this position be determined?
Candidates want to know how they can bring value to your organization, and what the key performance indicators (KPIs) are for them to achieve. Just as clients look for proof of ROI and other metrics, you should be prepared to share metrics in terms of their role. That could be anything from a cost-savings percentage year over year, to an increase in employee retention or monthly billable hours per client. Having this information at the ready will show your candidates that you've given this position thought and know what it will take to succeed and exactly how you'll measure that success.
Where do you see this firm five years from now?
Candidates are typically interested in their own professional growth, and that means they want to be part of an organization that has high aspirations of its own. Is your company interested in expanding its geographic footprint? Taking on new verticals? Or perhaps growing revenue to surpass competitors? Show candidates that your company is well grounded but aspirational, with clear goals in mind and a thoughtful plan for reaching them.
What are the biggest opportunities the firm has right now?
Speaking of personal growth, a company with a solid track record of new business opportunities is a great sign that they can offer you a secure, stable environment. It can also signify a workplace that can offer you opportunities to advance your career. A question like this one means your candidate cares about where the industry is heading, a great quality for employees who want to be a part of your firm's success.
What are the biggest challenges facing your company right now?
No company exists without bumps in the road. Industries evolve, technologies change, and new strategies and challenges are par for the course. If a candidate asks this type of question, it's likely because they want to know whether you're stable and how you handle pain points along the way. It's a good idea to begin by sharing a past challenge and explaining how your company was able to come together to overcome it. If you are facing a current challenge, provide a quick overview without going into details, but be sure to stay positive and show how you're confident about tackling that, too.
Do you have any concerns that might disqualify me from the position?
Companies typically have a specific checklist of skills and experience that satisfy the open position. You've brought in this candidate for an interview because they meet at least some of those qualifications, but other candidates might meet more of them. Be honest and give the candidate an opportunity to change your mind. Maybe their last position was eliminated after just 10 months. Giving the candidate a chance to explain will help you gain a more complete picture of their background and show that you are open and willing to hear another viewpoint rather than making assumptions.
What's the next step in the hiring process?
A candidate who asks about next steps is likely interested in the position and eager to continue the process. Let them know where you are in the process and how long it will take to move to the next round, whether that's a second interview with a different executive, a meeting with the team, or a potential offer. Explain how you'll reach out (email, phone) and how soon they should expect to hear from you. More than 80% of candidates report a greater overall recruiting experience when employers provide a clear timeline of the hiring process.
If you're searching for the perfect candidate in the legal industry, JurisTemps can help. We've been helping St. Louis law firms and legal departments raise their offer acceptance rate and speed up their recruiting process for more than 20 years. Our long-time relationships with St. Louis-based legal professionals can give you an edge. Contact us today – we look forward to assisting you!