December 1, 2020
2021 Forecast: Legal Industry Trends for the New Year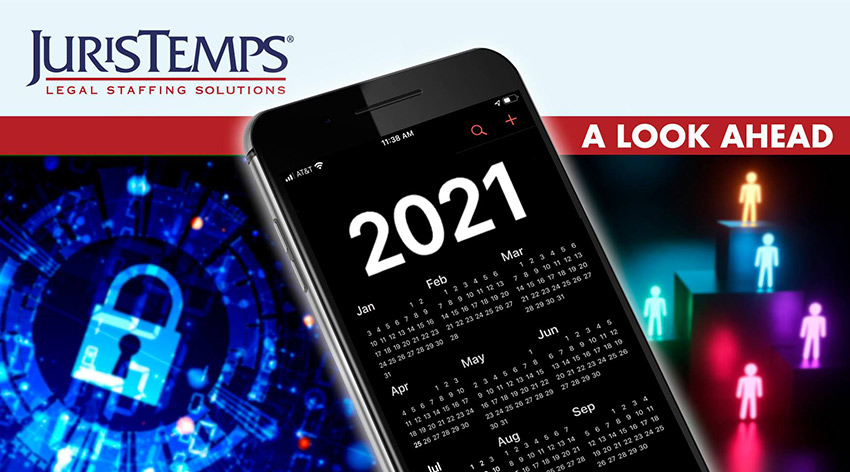 Last year at this time, the US legal services market was expected to reach $68 billion by year's end. Technology, global expansion, and new legal models were some of the biggest forces driving this growth. Unfortunately, 2020 brought challenges for which we were widely unprepared. Let's take a look at how 2020's challenges will likely impact the 2021 legal market.
Legal Trend #1: Cybersecurity Becomes Mission-Critical
In 2019, we predicted that tech would become mission-critical in the new year—little did we know how accurate that was. Not surprisingly, the pandemic prompted law firms to speed up their long-term digital transformation plans. In 2021, technology will be table stakes, and those organizations that did quickly onboard short-term cloud solutions for speed will be following those moves with long-term solutions and focusing on ensuring digital and data security.
With the automation of low-value tasks, such as creating templates, backing up documents, and onboarding clients, law firms and corporate legal teams will be free to focus on high-value, billable tasks in 2021 that ultimately increase productivity for teams and lower costs for clients. This also means legal pros with experience in cybersecurity will likely be in greater demand. And considering that digital transformation is an ongoing journey rather than an end-goal, these specialists are likely to enjoy increased job security in 2021 and beyond.
Legal Trend #2: Redefining Legal Structures and Services
Office space is traditionally one of a law firm's largest expenses, but the shift to remote work has many firms considering a permanent move to occupy less real estate in 2021. Beyond the literal structure, the way in which these businesses work is being redefined as well. Law firms and enterprise companies alike are embracing technology such as chatbots, online intake forms, and payment portals to increase efficiencies and improve client experiences. Courts are also redefining structures via the expansion of e-filing and e-services as well as online dispute software and other modern tools. As firms move front and back-of-house functions to the cloud, virtual assistants and remote employees will become more common, redefining the workforce structure in 2021 and beyond.
Thanks to the pandemic, many firms accelerated their digital transformation plans, which in turn is causing changes to processes that will likely be permanent. Deals finalized via sealed video conference and electronic signatures are just two examples of this evolution. Technology is also rapidly changing the delivery of legal services and the role lawyers play in that delivery. Despite the challenges brought about by COVID-19, some law firms are experiencing a surge in business: Insurance, labor and employment, and bankruptcy attorneys among them.
The Mergers and Acquisitions sector will likely see a surge in growth this coming year, as firms look for safety in numbers, even outside of their field. Large accounting firms, for example, are looking at potential deals with firms beyond their regular scope, such as client accounting services, wealth management, and cybersecurity.
Legal Trend #3: From ALSPs to 'New Law'
After years of Alternative Legal Service Providers, these services are no longer considered alternative. Enter New Law. Clients' increasing desire to spend less, demand more, and expect greater value is largely behind this $11 billion industry. While some firms are bringing these services in-house, the majority (65%) prefer to partner with providers for services such as e-discovery.
'New Law' partnerships provide corporate legal departments and law firms with access to specialized expertise, legal support flexibility, and an extended network of connections. This is especially helpful for smaller legal operations, with sixty percent of those with fewer than 1,000 lawyers currently considering legal process outsourcers. Temporary, temp-to-hire, and project-based legal staffing provides a streamlined solution for firms juggling increasing client demand and necessary cost reductions.
With some strategic planning, you can successfully navigate the evolving legal landscape of 2021. Law firms and legal departments considering new law partnerships may benefit from partnering with a staffing firm that can source and secure remote workers who best fit their specialized needs and requirements. Legal professionals with specialized experience will likely benefit from these increasing opportunities, as well. Whether you're a law firm in need of assistance or a legal professional looking for a new opportunity, JurisTemps can help. Click here for information about our team of expert legal professionals or here to learn more about our recruiting process.