July 15, 2019
Three Modern Employment Models for Legal Professionals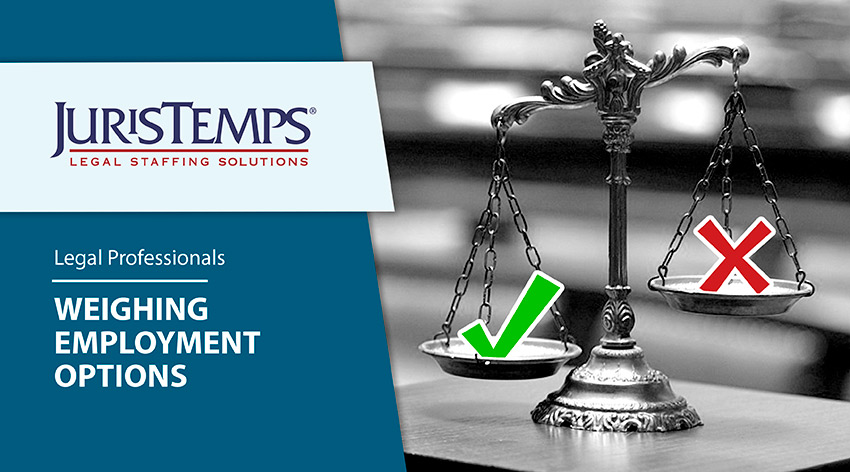 The legal industry is in a state of massive transformation. As clients continue to expect maximum value for their legal spend and legal professionals crave more flexibility in their work lives, a new hiring model is starting to emerge. This new model allows legal professionals to choose the type of employment that best suits their skills and schedules. Better still, seeking employment through a staffing agency or recruiting firm can significantly shorten the length of time it takes to land a position. While each option offers clear advantages, there are also things to keep in mind. Let's take a look at the potential for each.
Temporary Employment
A short-term position that offers an immediate paycheck for professionals and fills an immediate need for the firm.
Advantages
Experience—Taking on a temporary assignment will give you exposure to more types of legal work and law firm environments.
Networking—Temporary work allows you to work closely with a wide range of legal professionals who can help you grow and provide valuable guidance for your career.
Keep in mind that some temporary workers may feel a sense of isolation or have a more difficult time gaining the respect of their colleagues. Position yourself as an asset to permanent team members and you'll be more likely to be treated as an equal peer in the office.
Real World Scenarios
When Sarah* decided to scale back from her associate position in order to spend more time with her family, she reached out to JurisTemps for help finding temporary work. She was able to take on periodic legal research and writing projects that fit her schedule and could turn down projects when she needed more time at home. This arrangement allowed her to stay abreast of industry trends so that when Sarah is ready to return full time, she won't have to play catch-up and can hit the ground running.
Philip* was an associate attorney who wanted to open his own practice. In order to make it happen, he needed to find supplemental income that would fit his schedule and allow him time to build up his client base. With JurisTemps' help, he was able to take on a long-term temporary project until he found enough clients to open up his practice full-time. Without the extra income, it would have been far more challenging for him to pursue his dream of becoming a business owner. The temporary job provided the financial support he needed while allowing for a smooth career transition.
If you're a legal professional interested in temporary employment, click here to submit your resume for immediate consideration.
Temp-to-Hire Employment
A short-term arrangement that has the potential to turn into a full-time position if there is a mutual fit.
Advantages
A Point of Entry—If you have a resume that doesn't perfectly match the description of a certain role, a staffing agency can help you land an interview by vouching for your abilities.
Easing Transitions—If you're an attorney who's making a career transition, a temp-to-hire position can help make that change less abrupt.
Feel It Out—Getting to know people within the firm and having hands-on experience with their daily operations will help you determine if the position is a good fit long-term.
Keep in mind that while these positions often result in a full-time offer, your work ethic and dedication to the firm will play a large part in determining whether you are brought on permanently.
Real World Scenarios
William* was a recent graduate seeking his first paralegal job. A local law firm's receptionist was out sick and JurisTemps recommended that he step in to fill the role temporarily. He agreed, and within a few days, the law firm hired him as a full-time paralegal. Even if you think you're overqualified for a position, never underestimate the power of networking to get your foot in the door.
Meghan* was a legal assistant hoping to land a position with a large healthcare organization. While she had applicable experience, the applicant pool was highly competitive, and she wasn't selected for an interview. JurisTemps reached out to her a few weeks later when the company needed to fill a temporary position and she jumped at the opportunity. Eventually Meghan was offered the full-time, salaried position she wanted. Sometimes all you need is a point of entry and the chance to demonstrate your abilities. Determination and persistence go a long way!
If you're a legal professional interested in temp-to-hire employment, click here to submit your resume for immediate consideration.
Direct Hire Employment
A long-term position in which the employee is brought on full-time and receives a traditional salary with all the benefits provided by the employer.
Advantages
Better Integration—You'll likely feel like you're part of the team from day one and bond more quickly with colleagues.
Less Legwork—One of the most difficult and sometimes awkward parts of applying and interviewing for jobs is salary negotiation. When you use a staffing agency to secure a full-time position, their team of experts handles negotiations so that you receive an optimal salary. They can also keep an eye out for ideal jobs and let you know about any interesting opportunities that come up.
Perks and Benefits—Being on the payroll of a law firm means that you also get all the benefits that come along with being a full-time employee, such as health insurance and paid time off.
Take into consideration that if you decide to jump ship on a direct hire job too soon, it could look worse on your resume than a stint at a temporary job and may concern and discourage future employers.
Real World Scenarios
Sharon* and her family were preparing to relocate to a new city. She knew she needed to find a job, but her schedule left her no time to search. JurisTemps was able to locate open positions that fit her skills and experience and even set up remote interviews. She was able to find the right position just before moving. Had she relocated before searching for a job, she would likely have felt compelled to accept a job quickly, even if it wasn't the right fit. In this case, she was able to find the perfect firm without feeling rushed.
Julia* was a paralegal with several years of experience at a busy law firm. She was interested in switching to the corporate side but struggled to generate any interest in her resume. JurisTemps was able to champion Julia's strengths to the hiring manager at a large company. She landed an interview and was promptly offered the job. By getting to know her personally, JurisTemps was able to convey confidence in her abilities to the right person.
If you're a legal professional interested in direct hire employment, click here to submit your resume for immediate consideration.
At the end of the day, choosing between temporary, temp-to-hire, and direct hire employment is a matter of preference. Each option comes with its own set of benefits and potential obstacles, so it pays to weigh the choices before making a decision. Working with a recruiting firm like JurisTemps can give you an edge over the competition when it comes to writing your resume, honing your interview skills, and even finding opportunities that aren't made public. Get the details about our placement process, view current job opportunities or contact us to learn more.
*Names of clients have been changed.