May 2, 2019
Job Offer Etiquette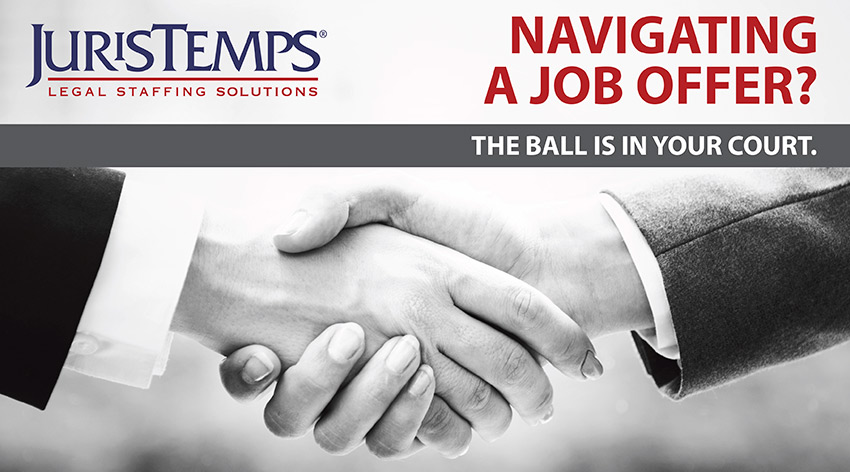 You nailed the interviews and finally received a job offer. Your next move matters. Don't make the mistake of thinking the job offer is the end of the game. In reality, it's often just the beginning.
Properly negotiating a job offer can go a long way toward creating a successful work environment, both for the employee and the employer. A job offer should be viewed as nothing more than an initial proposal made by a firm to an individual indicating that there's an interest in creating an employer-employee relationship.
Upon receiving a job offer, you have three choices: accept, reject, or negotiate.
Accept
If the position is your dream job or the compensation package knocks you off your feet, by all means, accept. But keep in mind that once you accept, you've given the employer your word that you will indeed begin working for them. The employer will act upon your acceptance, stop their search, and inform other candidates that the position has been filled. They may also sink investments into your employment; things such as new office furniture, computers and business cards, to name a few. If for any reason you aren't 100 percent sure, don't accept – yet. Accepting a job offer and then changing your mind can make you look indecisive and give you a poor reputation among not only that employer, but other connections within the company.
Reject
If the position is of no interest to you, it's best not to waste the employer's time, or your own, negotiating. Simply thank the employer for their time and move on. Oftentimes, though, the position is a good fit but the offer may not be ideal. Never assume that you've received the firm's best offer. If you like the job but not the offer (or the offer but not the job), negotiate.
Negotiate
Between the time an offer is made and before acceptance or rejection, there is usually a great deal of room for negotiation. Negotiating a job offer, regardless of the final outcome, is a smart choice in nine cases out of 10. Negotiations can be focused on salary, bonuses, benefits, vacation, tasks, management responsibilities, office size, or anything else that might impact the job. Don't be afraid to ask for what you truly want. You may not get it, but it doesn't hurt to ask. Most employers understand the business world and the job market. They won't be insulted by a fair and honest approach to negotiating an offer. In fact, most expect it, and view an initial offer as simply that – initial.
Rebound Offers
Perhaps the trickiest part of the negotiating process is the "please stay" or "rebound" offer from a current employer. It has become acceptable for employees to approach their current employer prior to accepting another offer. This could land you with a better salary package or new responsibilities. A new job offer may be just the leverage you need to get the raise you feel you deserve. Be careful, though. This tactic could backfire and leave you without either job. By actively seeking a rebound offer, the employer now knows that you're dissatisfied with your job and that you've been shopping around. Some employers interpret this strategy in a negative light and begin a search to fill the employee's job behind their back. On more than one occasion, we've seen an employee receive a nice counter-offer, and then be terminated several months later.
Some people make the critical mistake of accepting a job offer before they approach their current employer to renegotiate. This practice is considered highly unprofessional and could damage an individual's reputation and hamper future job searches. If you have even a slight interest in staying in your current position, we advise you to seek a rebound offer before accepting a new offer.
The ins and outs of job offer etiquette can be confusing and overwhelming for both employees and employers. This is especially true if neither has gone through the hiring process recently. With careful preparation and proper understanding, both sides should be able to navigate these negotiations successfully. The key is to understand the process from both perspectives. Negotiations are a fundamental component of human interactions and not something to be afraid of or forgotten during the hiring process. In fact, negotiating issues up front will significantly contribute to greater job satisfaction and employee productivity.
Much like an agent negotiating a sports contract, a professional recruiter can be a great value to both the employer and the employee. Because we negotiate on a daily basis, we can help articulate individual and firm goals, while at the same time providing an objective lens through which to view each side's demands. Learn more about how we can help you negotiate the perfect job offer or the ideal employee.